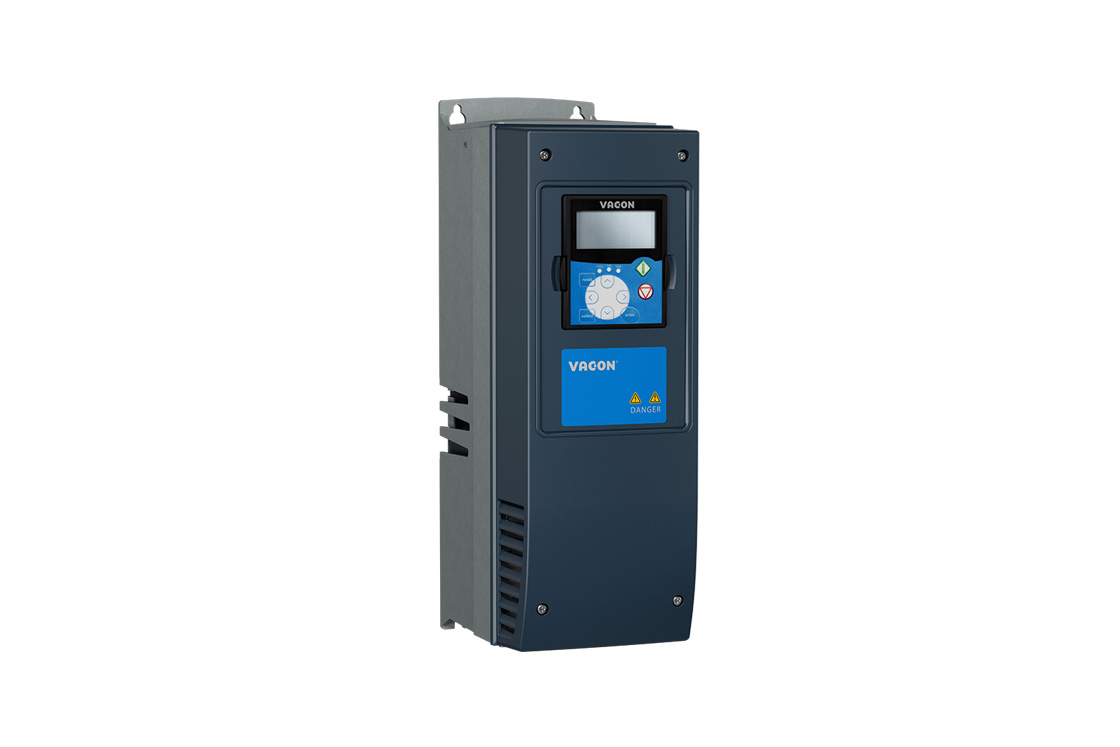 Vacon NXP Air Cooled – Delivering pure power
Vacon NXP is a premium air-cooled AC drive for use in all applications where reliability, robust performance, precision and power are required. These drives are available in the power range from 0.55 kW to 2,000 kW.
Vacon NXP range offers the ultimate in motor control, for both induction and permanent magnet (PM) motors, gearless drive applications and paralleling solutions for high power motors. Vacon NXP is easily integrated into any plant's automation system.
Vacon NXP Wall-Mounted
The Vacon NXP Wall-Mounted is one of the most compact and comprehensive drive packages on the market, with all the necessary components integrated in a single frame. For the lower power range, Vacon NXP drives are available in a compact IP21 or IP54 frame.
Fully equipped
Vacon NXP Wall-Mounted units are equipped with internal EMC filtering, and the power electronics are integrated into an all-metal frame. The smaller frame sizes (FR4-FR6) have an integrated brake chopper as standard, and the 380-500 V units can be equipped with an integrated brake resistor. The larger frames (FR7-FR12) can be equipped with an integrated brake chopper as an option.
Features
Easy cabinet integration with additional assembly kits
One of the smallest on the market
Extensive marine type approvals
DriveSynch features for high power or/and redundancy
Benefits
With optimized module design, less engineering is needed saving time and money
Compact module size require less cabinet space, while reducing the overall costs
Improved redundancy and higher powers up to 5.0 MW
Vacon NXP standalone
Premium Vacon NXP drives are also available in standalone IP21 or IP54 enclosures. These units are delivered in a compact enclosure, making them perfect for areas with limited space, while still providing full NXP control flexibility.
Robust and Reliable
Vacon NXP standalone drives are fully enclosed at the factory and ready for immediate installation. The drive is ideal for pumps, fans and other single drive applications. The drive has integrated fuses as standard and no extra protection components are required. It is also possible to equip the drive with an optional integrated load switch, which further simplifies handling in the field.
Features
Extremely compact cabinet enclosure
Delivered with ultra rapid AC-fuses
Optional built-in brake chopper and DC-link connectors
Benefits
Maximize the utilization of available space while reducing the overall costs
No need to consider any additional protection components